TECHNIK'A - JUST WHAT THE PROS NEED
Technik'a is a brand exclusively for automotive repair professionals.
A complete range of automotive parts and equipment for:
ENGINE
BRAKES
VISION
RUNNING GEAR
ELECTRICITY
FLUIDS
MAINTENANCE
FILTERS
Quality, safety and availability of parts are primary concerns for us in order to offer the best quality/price ratio to our Flauraud clients. Technik'a is committed to genuine quality in its products and services to professionals: range, price, manufacturer's specifications…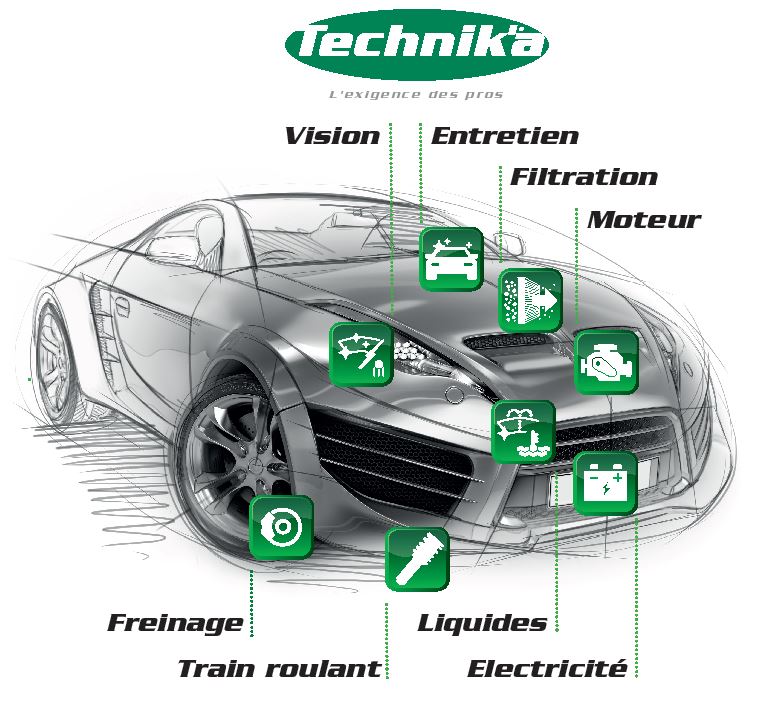 WHY CHOOSE TECHNIK'A?
Safety at the best price
All Technik'a parts are certified original equivalent (see "The Technik'a warranty"), giving you the assurance of travelling in perfect safety.
At Technik'a we also think safety should be accessible to everyone. That's why we offer our original quality parts significantly cheaper than the manufacturer parts.
We also suggest recommended retail prices to our repair partners so they can offer Technik'a parts at a great price. A price that will allow them to offer you a "parts and labour" quote that is lower than if you had bought your part online and brought it to a garage for installation. This is the only way to ensure your safety at the best price while protecting the role and expertise of your repairer.
The Technik'a guarantee
Original equivalent quality: what does this mean?
Technik'a is committed to offering you only certified parts of original equivalent quality. Original equivalent quality parts are parts which are not manufactured for the first fit but which are approved in conformity with the qualitative requirements set by the manufacturers.
"Spare parts of equivalent quality […] are of the same or higher quality [ed.: as the original part], but may be a different colour or made from a different material, for example." Source: http://www.euromotor.info/, information website regarding use of automotive spare parts under European regulations.
This means that if you choose Technik'a for your repairs, you're 100% sure of being safe and covered by the manufacturer's warranty.
Test de qualité
Technik'a goes beyond these certifications to guarantee maximum safety and performance. How? By having independent laboratories conduct comparative tests between Technik'a parts and competing parts. For example, Technik'a asked UTAC, an independent laboratory, to perform a comparative test on the performance of the Technik'a brake lining compared to an original equipment fitting.
To discover the full range, visit https://www.technika.com/ and to order, log in to your Mecasystems online catalogue.
Discover Flauraud's latests news.