Use a brake cleaner to ensure maximum efficiency
Our range of vehicle maintenance and cleaning products is available from your nearest Flauraud auto-parts wholesaler.
Brake cleaners degrease and clean internal mechanisms to ensure that your brakes are working at their best. Standard everyday vehicle operations can lead to various oils and liquids being ejected onto the braking system, including the discs and brake pads, rendering the system ineffective and noisy. As these parts are porous, they cannot be cleaned through a simple wipe-over, meaning it is important that appropriate cleaning products are used correctly. It is also advisable that brake systems are cleaned regularly to avoid clogging and build-up of foreign bodies from within. Clean brakes reduce braking distance, allowing the driver to stop safely in a shorter time.
Flauraud's brake cleaners are designed with everyday efficiency in mind. Available under the Technik'a brand, we offer low-cost, high-quality brake cleaners, as we know that they are among the most frequently used and relied-on products in any mechanic's workshop.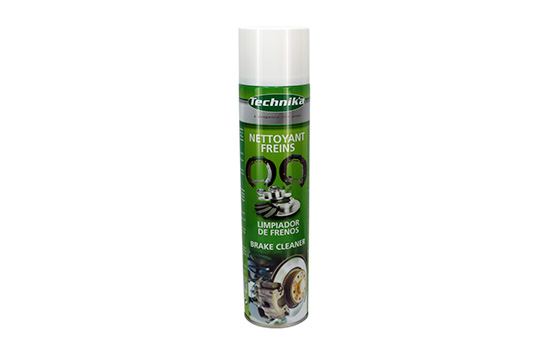 To order and make the most of our fast delivery offer, give us a call or log on to Mecasystems.
Discover Flauraud's latests news.
Technik'a
Experience the complete range of professional automotive parts and equipment from Technik'a!
Express delivery
Ultra-fast delivery! Your items will be with you between 2h and 24h after you place your order.