Mecasystems - 100% online catalogue and services directory
Discover Mecasystems, your 100% digital tool made in Flauraud. Mecasystems is the most comprehensive catalogue of automotive parts, accessories, consumables and online services available in the automotive market.
The entire Flauraud range, 100% digitalised
With Mecasystems, find and order your parts in just a few clicks and take advantage of all the services dedicated to professionals:
Catalogue of technical parts for LVs, LCVs and HGVs
Identify the vehicle via the registration or VDS or by make-model
Select your part from numerous product families available: lubricants, brakes, filters, suspension, transmission, engine, ignition, electricity, steering, windscreen wipers, clutch, cooling, exhaust, engine management, floodlights, air conditioning, bodywork, glazing, exterior equipment, towing, lights, snow chains, tyres, etc.
Find the various prices:

Net price
Discount level
Recommended retail price
Price for parts + labour

Check availability of parts in stock
Check the technical information of the vehicle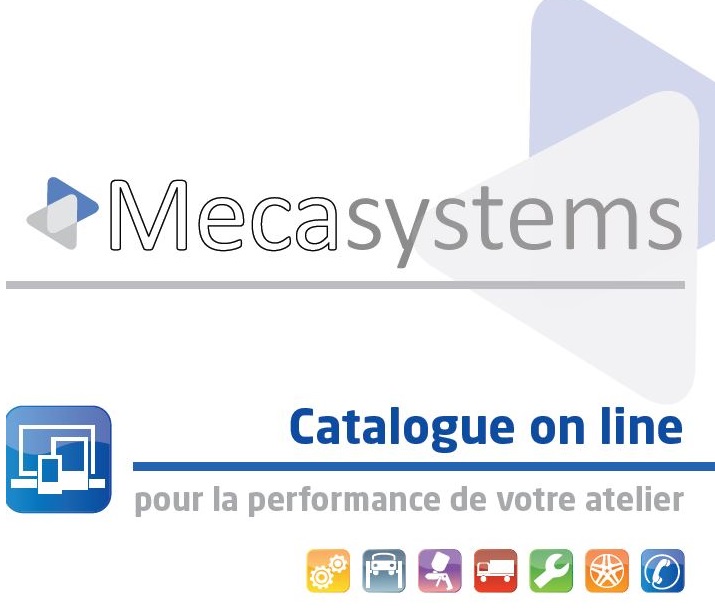 With Mecasystems, the most comprehensive electronic catalogue on the automobile market: technical parts, accessories & supplies, etc.
One Stop Shopping: Parts but also full catalogues of accessories and consumables
Order all your workshop supplies from one place (consumables, tools, PPE, cleaning, workshop equipment and furniture, etc.) as well as the entire range of automotive accessories from Flauraud (cargo carriers, interior comfort, maintenance, 12V accessories, etc.).
Mecasystems is establishing its identity as a tool dedicated to professionals by becoming the One Stop Shop for after-sales automotive service.
The goal of this 100% online tool is to facilitate the day-to-day life of professionals by being the partner that provides everything they need via a single interface, saving time and money.
Services dedicated to professionals
Besides a catalogue offering an impressively comprehensive range, Mecasystems provides professionals with numerous services designed to increase their productivity and working comfort:
Manufacturer Overhaul
Fill in the mileage of the vehicle and Mecasystems will tell you the maintenance operations that need to be carried out, frequency, labour time, etc. With just a few clicks you can offer your client a comprehensive and tailored maintenance quote.
Hotline
While browsing you always have a quick and easy way to contact the Mecasystems consultants, whether by phone or by message.
Access to technical information
Manufacturer's time calculators
AutoData and Haynes Pro Technical Info
OE and TecDoc database updated daily
OEM prices, including for reference
Tachograph repair service
Send your injectors, pumps or electronic components free of charge to Flauraud Technical Automotive Centres for express quotes and repairs.
Quote management
Select the client's account, parts, time calculator: the quote is created. Validated by your client? Turn this quote into an order with one click!
F-Touch diagnostic
The fault codes given in the F-Touch diagnostic tool switch to Mecasystems. This means you can open these codes directly in AutoData.
Offers and Promotions
With Mecasystems you'll always know all the current offers to enable you optimise your purchases.
Online help
Exploded diagrams to help you find parts, assembly instructions and light replacement intervals: Mecasystems has plenty of tips to help you in your day to day work.
Mecascan application
Totally free, the Mecascan app makes it easy for you to place orders on Mecasystems. No need to make complicated reference lists: flash the barcode of the product and place an order to replenish your stocks!
Stock services and labels:
Manage your stock replenishment and different printouts (storage labels, flyers, price stickers, etc.) automatically in Mecasystems.
First service order and restock:
Manage your supplies and accessories easily with Mecasystems automatic recommendations. These are suggested based on your order history or on the percentage of sales per reference.
Discover Flauraud's latests news.