Hand tools
In order to carry out good repairs and automobile maintenance, it is vital to use high quality tools. That's why your automobile parts and accessories wholesaler offers you professional tools to respond to all your needs.
Workshop carts and small equipment, sockets, ratchets and accessories, clamps, screwdrivers, pliers, sawing tools, cutting tools, striking tools, automobile tools, maintenance tools, pneumatic tools and many more: thanks to our long-term partnerships with the largest hand tool manufacturers, at Flauraud you can discover a wide range which will allow you to work on a high number of vehicles thanks to the extensive variety of tools.
Available exclusively at Flauraud, AmPro knows what you need when it comes to high quality, professional tools. AmPro tools are designed, created and manufactured for professionals.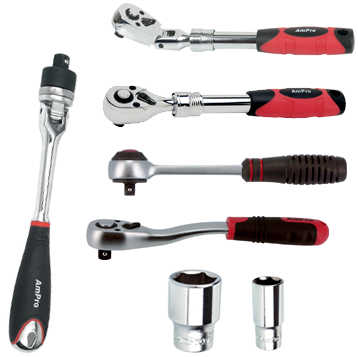 That is also why the name 'AmPro' was chosen, short for 'I am professional'. Our aim is to offer the best tools to professionals at a fair price. AmPro places product quality at the forefront of its interests and makes these high quality products available to the largest amount of people with a fair price policy. The proof of this continual focus on high quality is shown in our ability to offer you tools under FULL GUARANTEE.
Head to the AmPro site to discover the whole range in detail.
Are you an industry professional? Take advantage of next day delivery throughout France by logging in to Mecasystems or creating your account to order the essential tools you need.
Discover Flauraud's latests news.
AmPro
Discover the AmPro range of professional tools! A selection of hand tools consisting of more than 600 product lines, including a complete range of tool trolleys for the workshop.